How Do I Know This Will Work?
This is a common question I get asked all the time. But one thing I always tell people, especially to my students is this..
Selling on Amazon is a formula. Period. If the numbers make sense, you follow the proper guidelines, and everything checks out, there is ABSOLUTELY NO WAY that you can fail.
Think of it like this. If you wanted to lose weight, and you committed to going to the gym 5-6 days a week, did cardio, changed your entire diet, tracked your foods and started eating healthy, would you lose weight? Of course you would! Because you followed a proven formula!
And that's exactly what Amazon is. It's a formula.
Check this statistic out: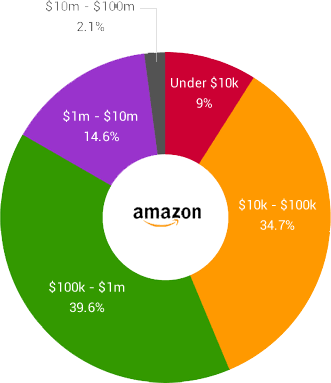 There are 39.6% of sellers making $100,000 or more on Amazon. That is INSANE!
With an estimated 2,000,000+ Amazon Sellers, that would mean of that amount, there are 800,000+ people making AT LEAST $100,000 a year.
The question now becomes..
Why can't that be you?

Click Here to watch my interview with Taylor!

Click Here to watch my interview with Amine!
+ Many Other Heroes!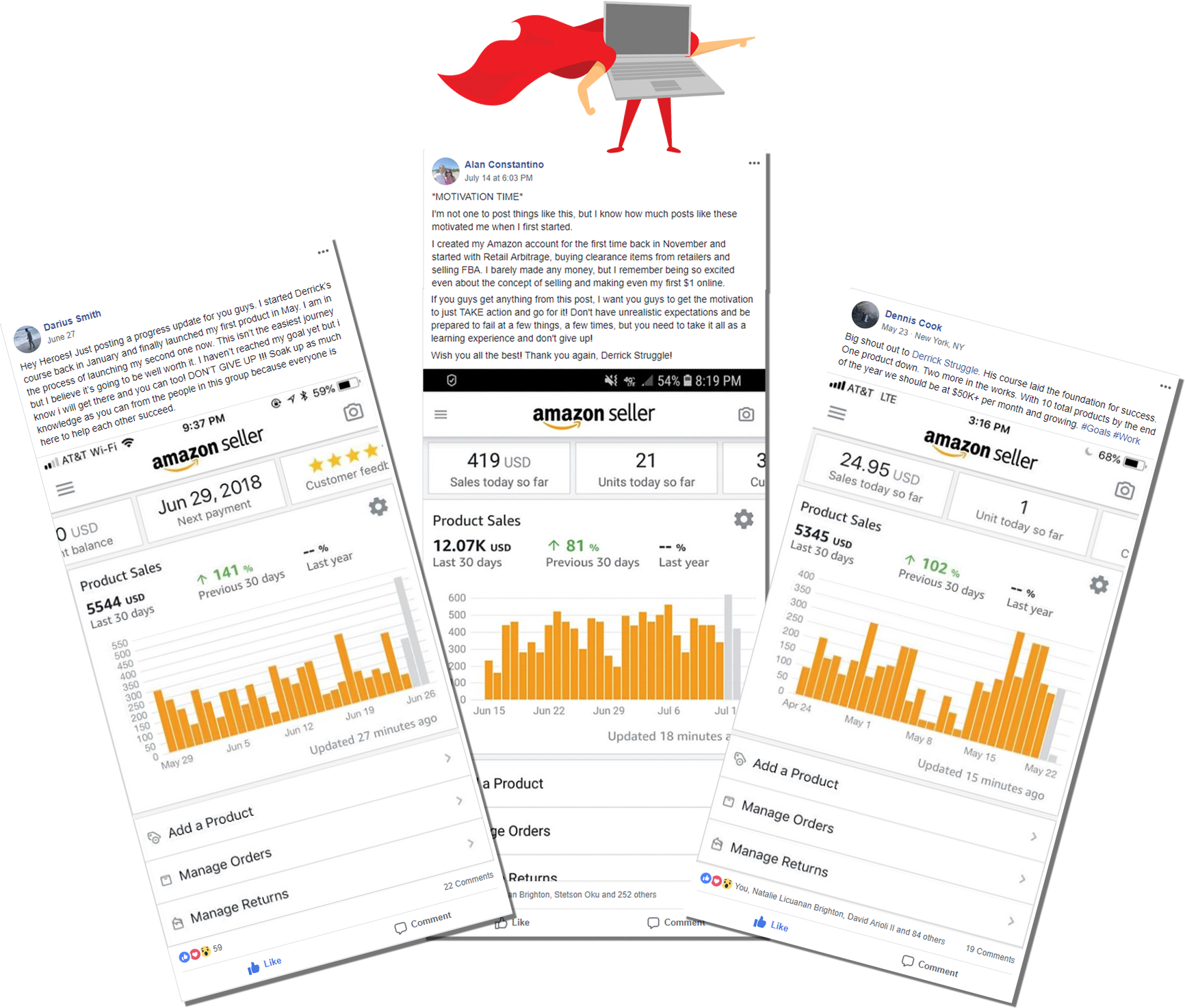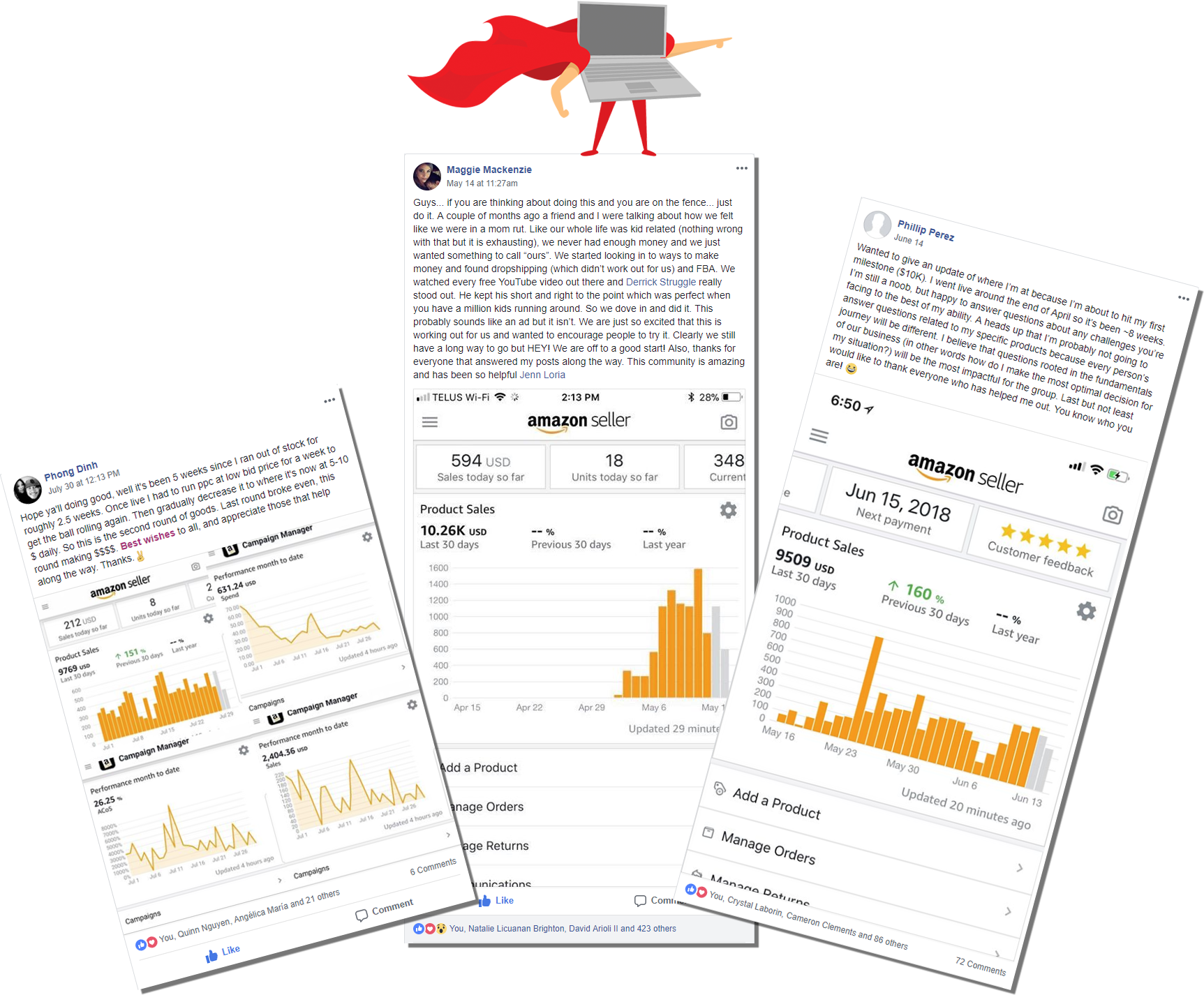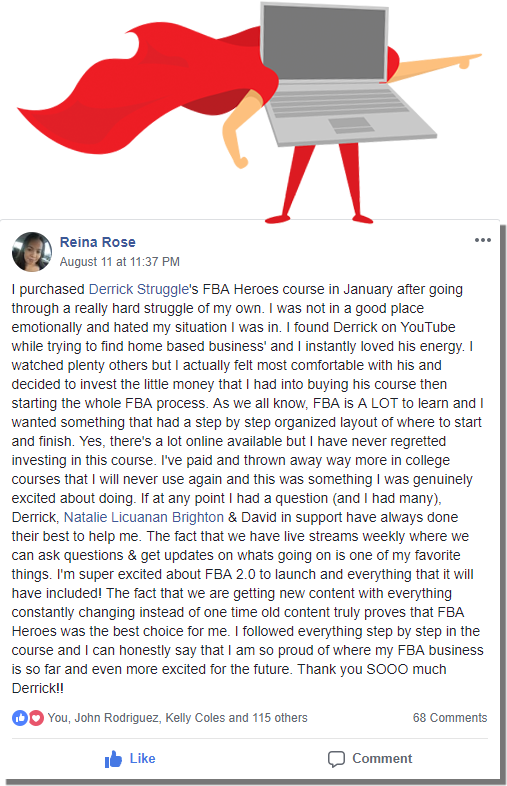 This is why Amazon FBA Heroes is right for most people..
We show you the step-by-step formula on how to go from no money, to online profit. In other words, from zero to hero!
You'll learn the exact strategies, frameworks, tactics, and examples of how to find a viable product, contact suppliers the right way, then use systems to scale your business — even when you're sleeping.
We will also be going in depth on how to create a masterpiece of a listing, and rank it to the first page effortlessly. All you have to do? Sit back and watch the profit roll in.
The course will also be updated regularly with new strategies, new lectures and new tactics as time goes on!
Here Is EVERYTHING You Get:
60+ High Quality, Comprehensive Step-By-Step Videos + PDF's

Full Heroes Live Support and Guidance

The Heroes Services! All inclusive services such as product photography, freight forwarding, patent checks, logo designing, etc from the very best in the industry so you never have to outsource any work!

The Heroes Knowledge Base (FAQ) Answering 100's of The Most Common Questions in Amazon FBA!

Exclusive Content From Viral Launch CEO, Casey Gauss!

Exclusive Content From Lawrence Lee (Product Photography) & Danny Perez (Leveraging Social Media Platforms)!

Weekly Heroes Live Streams (Where You Get Live Guidance and Your Questions Answered!)

The Absolute BEST Supplier Templates From Initial Contact To Your Final Order

5+ Hours of Content That Will Take You From Point A-Z

Access To The Private Student Heroes Community


Lifetime Access To All Videos

Access To All New Continuous Updates
*ADDITIONAL HERO BONUSES:
How To Run Insanely Powerful Facebook Ads

How To Create A Game Changing E-Book

How To Add THANK YOU Card Inserts To Your Product Packaging To Provide Massive Value

+ So much more!
If you don't LOVE it, I insist that you get 100% of your money back.
(Applies If You Have Completed Less Than 40% of Course Content)